Buat Anda yang selalu melesat lebih depan dibandingkan yang lain, kini hadir All New Honda City yang diciptakan khusus untuk Anda para Rising Star.
Desain baru yang lebih dinamis, mesin andalan i-VTEC dengan tenaga terbesar di kelasnya, juga kabin yang semakin lega dan kapasitas bagasi luas siap menampung impian Anda dan melaju mencapai hal-hal besar dalam hidup.
So are you the Rising Star?
Reward yourself now with the All New Honda City
http://www.honda-indonesia.com/model/city
Harga Honda City Tegal
Cek Harga Honda Tegal Terbaru disini
Untuk Informasi lebih lanjut tentang City di Dealer Honda Mobil Tegal Raya. Silahkan kontak saya.
Arfin Jr.
CALL: 085647069693 |087749915229 | 085225782229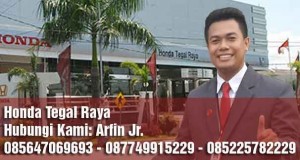 Video Honda City